These teacher appreciation quotes will help you recognize the value of educators and show them a little love.
It's teacher appreciation week! Throughout the week, we will be celebrating the contribution of teachers in the lives of our children and shaping up the society.
The importance of teachers in society can't be underestimated. They take on the responsibility of shaping young minds and change their lives for the better.
Teachers are one of the biggest role models for students. They inspire them to push themselves to accomplish their goals. Besides, they guide students on everything, from academic interests to issues related to their personal lives.
Teaching is one of the hardest jobs in the world, and we ought to honor educators; not only this week but every week.
To help you celebrate and thank the teachers in yours or your child's life, below is our collection of inspirational, empowering, and heart-touching teacher appreciation quotes and sayings, collected from a variety of sources over the years.
Teacher appreciation quotes celebrating the impact of educators
1. "I am indebted to my father for living, but to my teacher for living well." – Alexander the Great
2. "A good teacher is like a candle — it consumes itself to light the way for others." – Mustafa Kemal Ataturk
3. "Teaching is a very noble profession that shapes the character, caliber, and future of the individual. If the people remember me as a good teacher, that will be the biggest honor for me." – A. P. J. Abdul Kalam
4. It is the supreme art of the teacher to awaken joy in creative expression and knowledge." – Albert Einstein
5. "The art of teaching is the art of assisting discovery." – Mark Van Doren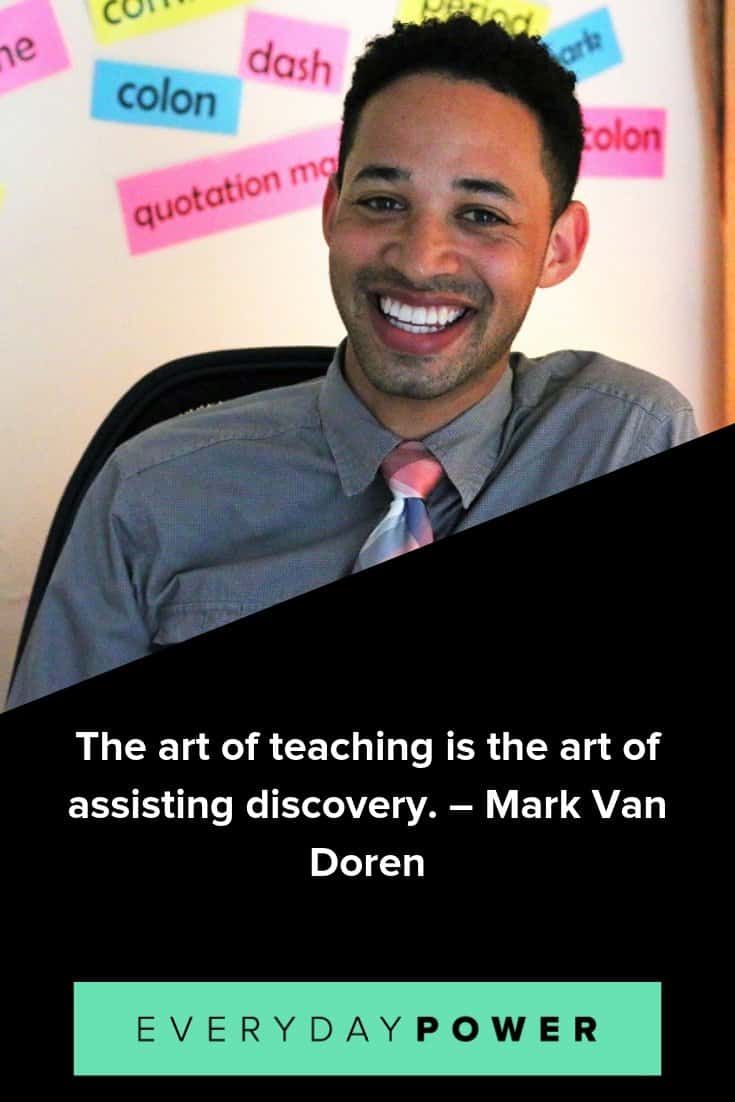 6. "If you have to put someone on a pedestal, put teachers. They are society's heroes."- Guy Kawasaki
7. "He who opens a school door, closes a prison." – Victor Hugo
8. "In teaching, you cannot see the fruit of a day's work. It is invisible and remains so, maybe for twenty years." – Jacques Barzun
9. "Education is the key to success in life, and teachers make a lasting impact in the lives of their students." – Solomon Ortiz
10. "One good teacher in a lifetime may sometimes change a delinquent into a solid citizen." – Philip Wylie
Teacher appreciation quotes for educators developing the next generation
11. "A good teacher can inspire hope; ignite the imagination, and instill a love of learning." – Brad Henry
12. "Teachers teach because they care. Teaching young people is what they do best. It requires long hours, patience, and care." – Horace Mann
13. "Teaching is the profession that teaches all the other professions." –Author Unknown
14. "Free the child's potential, and you will transform him into the world." – Maria Montessori
15. "One child, one teacher, one book, one pen can change the world." – Malala Yousafzai
16. "Anyone who does anything to help a child in his life is a hero to me." – Fred Rogers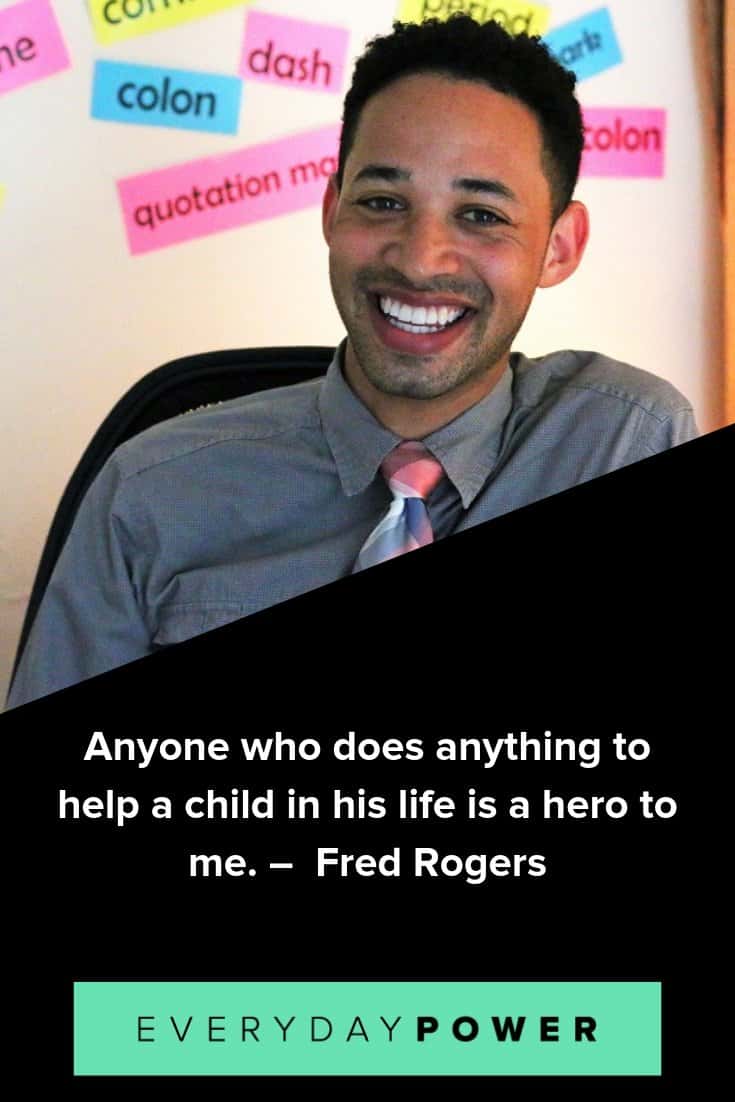 17. "Not all superheroes have capes, some have Teaching Degrees." – Author Unknown
18. "The direction in which education starts a man will determine his future life." – Plato
19. "The dream begins with a teacher who believes in you, who tugs and pushes and leads you to the next plateau, sometimes poking you with a sharp stick called "truth." – Dan Rather
20. "I was lucky that I met the right mentors and teachers at the right moment." – James Levine
Teacher appreciation quotes that honor and respect all educators
21. "A teacher takes a hand, opens a mind, and touches a heart." – Unknown Author
22. "Everyone who remembers his own education remembers teachers, not methods and techniques. The teacher is the heart of the educational system." – Sidney Hook
23. "A teacher affects eternity; he can never tell where his influence stops." – Henry Adams
24. "Education breeds confidence. Confidence breeds hope. Hope breeds peace." – Confucius
25. "Teacher appreciation makes the world of education go around." – Helen Peters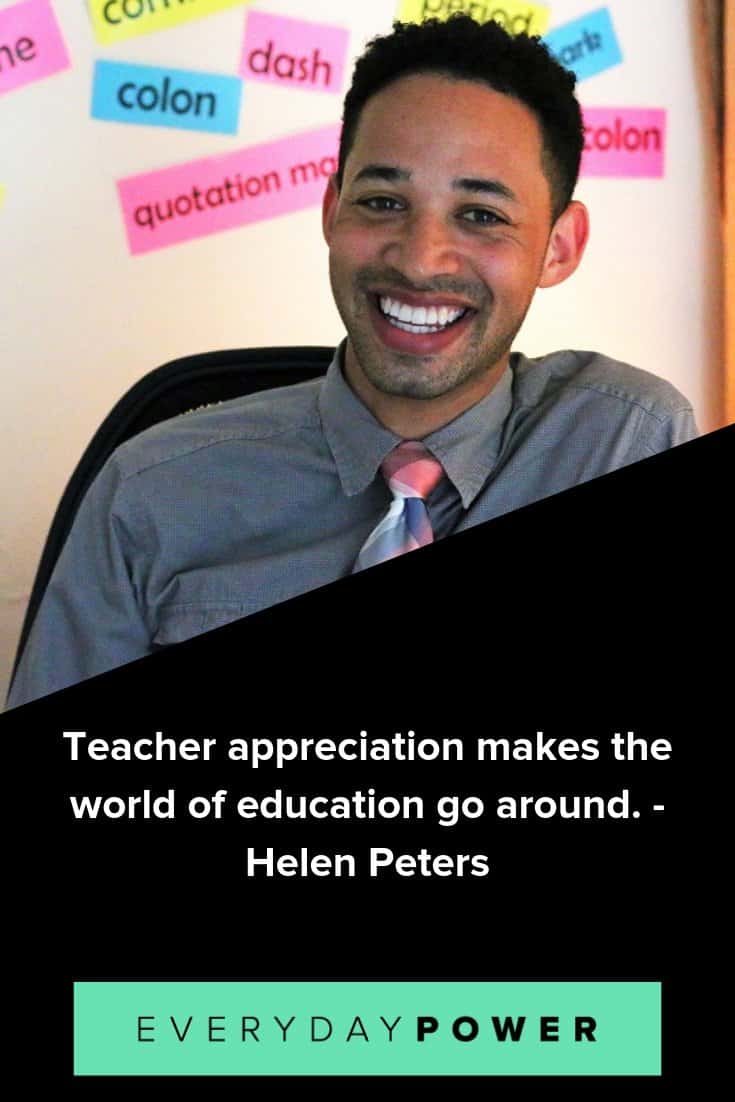 26. "What a teacher writes on the blackboard of life can never be erased." – Unknown Author
27. "Who dares to teach must never cease to learn." – John C. Dana
28. "What the teacher is, is more important than what he teaches." – Karl Menninger
29. "Good teachers know how to bring out the best in students."— Charles Kuralt
30. "The influence of teachers extends beyond the classroom, well into the future."— F. Sionil Jose
Homeschool teacher appreciation quotes
31. "The whole art of teaching is only the art of awakening the natural curiosity of young minds for the purpose of satisfying it afterwards." –Anatole France
32. "Education is not filling a bucket, but lighting a fire." –W.B. Yeats
33. "A disciple is not above his teacher, but everyone when he is fully trained will be like his teacher." –Luke 6:40 
34. "As parent educators, we need to embrace a new notion of learning…we need to engage the heart in order to effectively educate the child. Our vision of a well-educated child is a child who has a heart for learning, a child who has the tools he needs to continue to learn for a lifetime and a child who has the love to want to do it." –Elizabeth Foss
35. "There is no school equal to a decent home and no teacher equal to a virtuous parent." -Mahatma Ghandi
36. "My aim in homeschooling is to give my children the ability to be an adult learning, a skill set that will last the rest of their lives." -Nancy Pearcey
37. "The longer I homeschool, the harder it is to separate teacher and mommy things I enjoy and I don't need to because I am both of those things." –Tina Robertson
38. "You're a homeschool mom? You are building something amazing!" –Mary
39. "Educating the mind without educating the heart is no education at all." –Aristotle
40. "The most important work you and I will ever do will be within the walls of our own homes." –Harold B. Lee
Teacher Appreciation Quotes For The Great Job They Do
41. "The teacher … must have a kind of faith that the child will reveal himself through work." ―  Maria Montessori
42. "The job of an educator is to teach students to see vitality in themselves." ― Joseph Campbell
43. "I think the teaching profession contributes more to the future of our society than any other single profession." ― John Wooden
44. "A good teacher, like a good entertainer, first must hold his audience's attention, then he can teach his lesson." ― John Henrik Clarke
45. "To teach is to learn twice." ― Joseph Joubert
46. "Teachers appreciate being appreciated, for teacher appreciation is their highest award." ― William Prince
47. "Good teaching is more a giving of right questions than a giving of right answers." ― Josef Albers
48. "I like a teacher who gives you something to take home to think about besides homework." ― Lily Tomlin
49. "Students don't know how much you know until they know how much you care." ― John C. Maxwell
50. "Be a wonderful role model because you will be the window through which many children will see their future." ― Thomas Mckinnon
Which of these teacher appreciation quotes was your favorite?
Teacher appreciation week gives us all an opportunity to let educators know how much we value their hard work, their caring, and their sacrifice.
Teachers play a big role in shaping the world around us. An educator is the guide who holds our hand, opens our mind, and touches our heart. Hopefully, the quotes above will help you honor and appreciate them.
Which of these teacher appreciation quotes was your favorite? Do you have any other inspirational quotes to add to the list? Let us know in the comment section below. Also, don't forget to share with your friends and followers.